For two decades The Movable Book Society has honored the best in paper engineering through its awards program.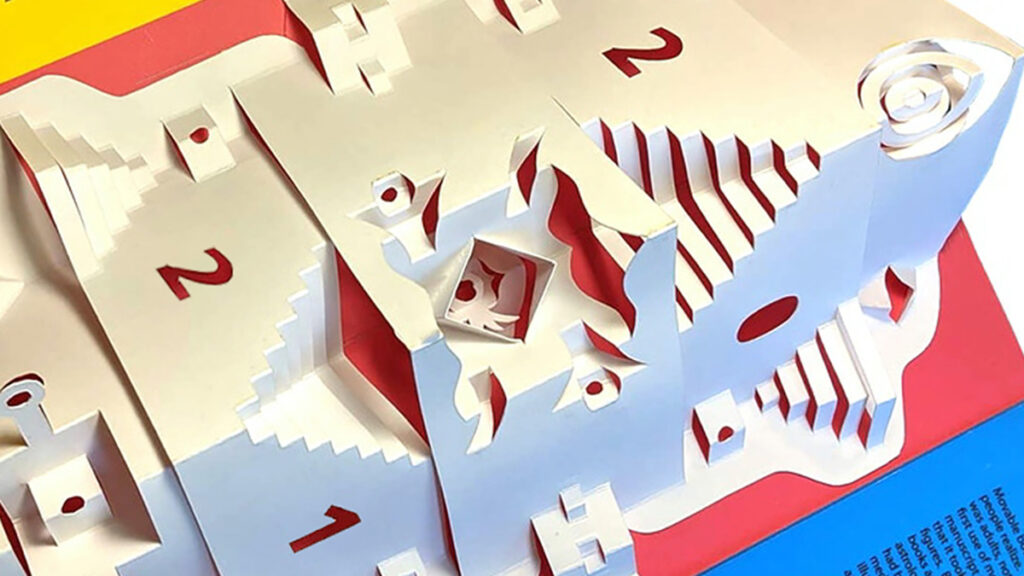 Winner of the 2023 Meggendorfer Award for Best Paper Engineering:
David A. Carter & James Diaz for The Complexities of Pop Up
Meggendorfer Prize for Best Paper Engineering – Trade Publication. The Movable Book Society presents the Meggendorfer Prize for Best Paper Engineering for the most outstanding commercially published pop-up or movable book at its biennial conference. The nominated book must have been issued in the two years preceding the conference. The award honors Lothar Meggendorfer (1847-1925), a legendary 19th-century illustrator and movable books paper engineer.
Emerging Paper Engineer Prize. This honor recognizes excellence in paper engineering among undergraduate and/or graduate students worldwide.  Entrants must be registered undergraduate or graduate students, or have just completed a course of study in the spring of the conference year. Qualifying projects must include pop-up and/or movable structures and must have been created during a course of college study. Click here for more information and to download a submission form for the 2023 prize.
Meggendorfer Prize for Best Paper Engineering
Year
Conference Location
Recipient
Book Title
Publisher
2023
Cleveland, OH
David A. Carter & James Diaz
The Complexities of Pop Up
Poposition Press
2021
Denver, CO
Wang Wei
Opening the Forbidden City
TBA
2018
Kansas City, MO
Simon Arizpe
Zahhak: Legend of the Serpent King
Fantagraphics Books
2016
Boston, MA
Shawn Sheehy
Welcome to the Neighborwood
Candlewick Press
2014
Philadelphia, PA
Matthew Reinhart
Transformers: The Ultimate Pop-up Universe
LB Kids
2012
Salt Lake City, UT
Ray Marshall
Paper Blossoms
Chronicle Books
2010
Portland, OR
Marion Bataille
ABC3D
Roaring Brook Press
2008
Washington, DC
Matthew Reinhart
Star Wars Pop-up Guide to the Galaxy
Orchard Books, Scholastic
2006
Chicago, IL
David A. Carter
One Red Dot: A Pop-up for Children of All Ages
Little Simon, Simon & Schuster
2004
San Diego, CA
Andy Baron
Knick-Knack Paddywhack!
Dutton Children's Books
2002
Milwaukee, WI
Robert Sabuda
The Wonderful Wizard of Oz: A Classic Collectible
Little Simon, Simon & Schuster
2000
New York City
Robert Sabuda
Cookie Count: A Tasty Pop-up
Little Simon, Simon & Schuster
1998
Los Angeles, CA
Robert Sabuda
The Christmas Alphabet
Orchard Books
1996
New Brunswick, NJ
No award given
Meggendorfer Prize for Artist Books
Year
Recipient
Title
2023
Hiromi Takeda
Orchids
2021
Paul Johnson
The Lemon Tree
2018
Colette Fu
Tao Hua Yuan Ji, 桃花源記
2016
Graham Patten
Call Me Trimtab
2014
Dorothy A. Yule
Memories of Science
(See video of the book)
Emerging Paper Engineer Prize
Life Time Achievement Award
| | | |
| --- | --- | --- |
| Year | Recipient | Contribution |
| 2000 | Waldo Hunt, Intervisual Books | Honored for "ushering in the Second Golden Age of Pop-ups." |